About the Programme
The North East Inner City (NEIC) Initiative is a social regeneration initiative endorsed by Government involving local communities in the NEIC, businesses and statutory agencies creating opportunities to bring about lasting, positive change in the area.
Work experience has the potential to make a real difference in the lives of young people. Often, work placements can reflect and reproduce patterns of inequality with working class students getting working class placements and middle class pupils experiencing the benefits of 'professional placements'. The NEIC work experience placement programme is a conscious effort to buck this trend and is one strand in a coordinated effort to open doors, raise awareness and aspirations and ultimately to provide students in Dublin 1 schools with access to and insight into professions and career paths outside their existing network.
In 2018 — 2019 the NEIC Initiative placed almost 100 second level (4th and 5th year) students in high quality 1 — 2 week placements across businesses and civil and public service organisations in Dublin 1 and Dublin 2. Organisations included PwC, A&L Goodbody, Central Bank of Ireland, Department of the Taoiseach, Beauchamps Solicitors, Matheson, JP Morgan, State Street, AIG, Department of Education and Skills, Dublin City Council, City of Dublin Education and Training Board, Three, The Convention Centre, Croke Park, Irish Life, Kennedy Wilson, McCann Fitzgerald and Oracle.
Based on both positive feedback and impact of this programme we are extending this support to all 6 second level schools in the NEIC area for the 2019/2020 academic year. In practical terms, this means we will be seeking to secure high quality work-experience placements for 420 students. To achieve this goal NEIC have partnered with the National College of Ireland's Career Development & Employability team who are co-ordinating this effort on our behalf.
The feedback from last years' participants was overwhelmingly positive and we are asking all businesses and civil and public service organisations within Dublin 1 and Dublin 2 to consider hosting a local Dublin 1 student on a work experience placement. This initiative has proven itself to be an impactful and effective way to support the community in a highly meaningful way.
Please see the Placements Timelines for 2019/2020 below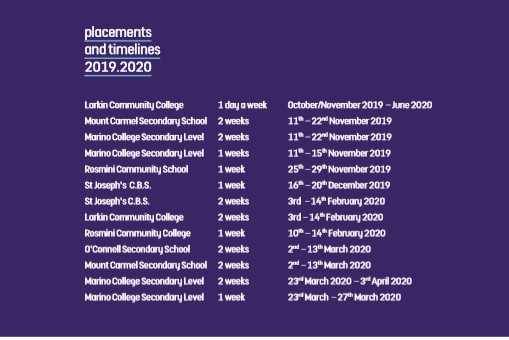 For more information on the Programme click here.
---