The Indian Embassy (Dublin) and Dublin City Council take pleasure in presenting the International Day of Yoga (IDY) 2019 on 22nd June, 2019 at 10.30am at the iconic Grand Canal Square, Dublin-2. This is part of celebration of IDY 2019 in all major cities in the European Union, as well as globally.
It is the universal belief that Yoga is a science, contributing to holistic health and imparting a balance of body, mind and soul. At a larger level, it contributes to global peace, security and harmony, which becomes extremely important in today's context when many regions of the world are faced with chaos, uncertainty and terrorism.
IDY event in Dublin is expected to be attended by a large number of people, including the political leadership, diplomats, sports stars, business personalities, media and the general populace. The main component of the event will be the conduct of the 45-minute universal Yoga Protocol, led by reputed local Yoga practitioners.
Snapshots of the event will be transmitted globally through social media and other PR platforms, projected to raise the profile of Dublin city as a multi-cultural tourist and business destination.
The Indian Embassy (Dublin) and Dublin City Council look forward to welcoming Dubliners in large numbers to this global event, which is anticipated to be an extraordinary journey towards integrated health, community inclusivity, global peace and harmony.
All are very welcome!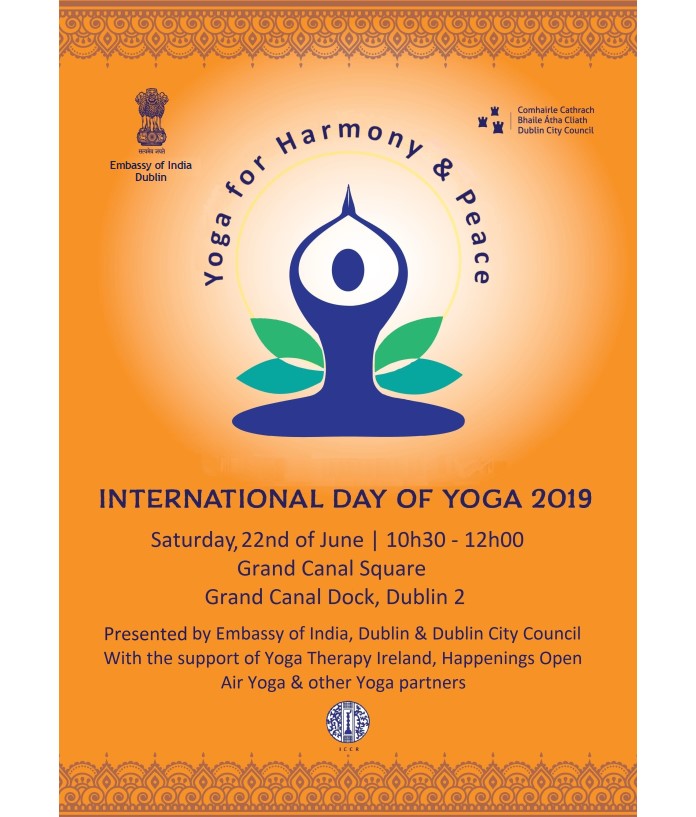 ---