This is a weekend when all the gospel choirs and gospel music enthusiasts from Dublin and around Ireland will come together to enjoy gospel choir music and participate in singing workshops and concerts over the whole weekend
There are over 20 gospel choirs active in the Dublin City area, and on top of that there are so many similar community choirs, work place choirs and artists in our area, it's great to have the opportunity for everyone interested in singing to experience this genre of music in such an accessible format of a music festival, right in the heart of the city.
The weekend starts on the Friday evening 17th May with an opening group workshop with Volney Morgan in St George's & St Thomas' Church on Cathal Brugha St, this promises to be an energising gospel singing workshop, getting you in the mood for singing all weekend, if you are lucky enough to have a full weekend ticket in your pocket. Individual tickets for this workshop are €15 ex fees.
All day on Saturday there will be masterclass style gospel choral singing workshops with leading Irish and international choral experts in gospel choir music, teaching every aspect of this genre of music, from performance styles, choreography, soloist techniques, to harmonising and a Capella. Workshop facilitators include Craig Lees, Adrian Moore, Volney Morgan, Sam Kavanagh, Ross Scanlon, Dr Kevin O'Carroll, members of Discovery Gospel Choir Justine Nantale & Micheal Chanda, and Ardú's Ciarán Kelly. These workshops are open to anyone, whether you're already in a choir or just partial to a song in the shower, the workshops are tailored for every skill and confidence level, so everyone will feel part of the sessions and comfortable to sing along.
Access to these workshops is by ticket only, either as part of the full weekend ticket (€75 ex fees) or they can be purchased individually for €25 ex fees.
The Festival Gala Concert - Lifting Me Higher, is on the Saturday night of the festival the 18th May, where 5 gospel choirs will get up on stage in St Francis Xavier's Church, Gardiner St, to perform their style of gospel music, this will be the chance to see Discovery Gospel Choir, Gardiner St Gospel Choir, Bray Gospel Choir, SUSO (SpeakUp SingOut) Gospel Choir and Virginia Gospel Choir all perform under one roof with an amazing night of entertainment. Tickets for this concert are part of the full weekend ticket or available individually for €17.50/€14 ex fees.
On the Sunday of the festival, the 19th May, there is a FREE outdoor festival event in Mountjoy Sq Park, 'Super Soul Sunday' from 12noon-5pm. This promises to be an amazing day of gospel music being performed in the beautiful northside Georgian square park. There will also be the chance to experience singing in the style of a gospel choir for yourself by attending a gospel music workshop in their Workshop Tent in the park.
FREE Gig: There is a cracking line-up of performers taking to our big stage in the middle of the park including Swan Youth Service, Dublin Gospel Choir, Euphonics, Shannon Gospel Choir, Decibelles, The LaLaLa Choir, SUSO Youth Choir, Sandymount Gospel Choir, Gardiner Street Junior Gospel Choir and more to be announced.
There will be three workshops taking place throughout the day in our workshop tent, designed to give you a chance to try something new or sing with some brand new pals and create some magic.
The FREE Youth Choir Workshop will take place from 12 – 1pm. It is tailored towards anyone aged 12 years +, entry is free but spaces are limited and will be allocated on a first come, first served basis.
The FREE Pop-up Choir Workshop will take place from 1.15 – 2.30pm. It is perfect for anyone who has wanted to give singing in a group or choir a shot for the first time in years, the very first time or absolutely anyone that likes to sing! Entry is free but spaces are limited and will be allocated on a first come, first served basis.
The Delorentos Gospel Workshop is the grand finale of our workshop sessions this year. Join members of the acclaimed Irish four-piece to transform one of their beautiful songs into something new with a gospel twist. The song will be performed on the main stage as the closing moment of our 10th anniversary festival so needless to say, it's going to be something special. It takes place from 2.45 – 4.45pm and access is permitted only with a Festival Weekender Pass or a special workshop ticket for €20 ex fees.
Booking for any of the ticketed events is available online here www.gospelrising.com.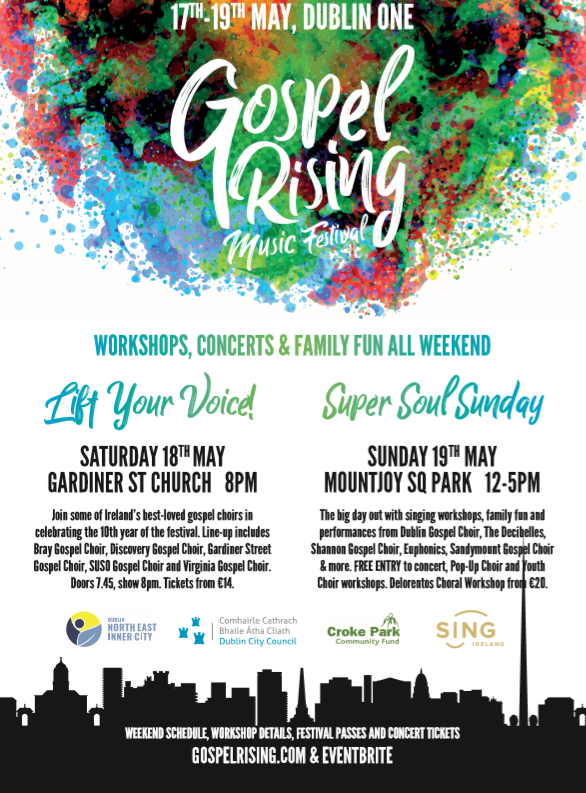 ---