This final concert is a mix ofvibrant energetic music - our last hurrah until the nest festival 2020.
Street Life – A Vibrant NorthDublin Based Rock Orchestra. Formed in 2017, is a community-based Rock Orchestra based in north Dublin. It was formed with two main goals:To offer musicians and singers of the Dublin community a musical continuation in an alternative musical ensemble; To provide thewider community with vibrant entertainment to the highestprofessional level.
Introducing Ireland's definitive Blues Big Band**"** The Catfish Blues Orchestra **"**a truly unique musical experience.Catfish produce a high octane show with blistering guitar, creamy bass, steam train like percussion, melodic vocal work and true blues harp. The band had a very successful 2018 releasing their debutalbum and single "The Trip" receiving a BBC radio exclusive backed up by multiple live and festival appearances in UK and Ireland. 2019 will be another busy year for the band with the Five Lamps Arts Festival set to be one of the highlights.
The Gardiner Street Gospel choirwas set up in March 2000 by Kevin Kelly to encourage young people to return to mass and to make the mass a more joyful and meaningful experience for all.The choir have performed in various venues including The Olympia, National Concert Hall and the Gaiety and appear regularly on national TV and radio programmes. They released their first album One Love in 2002 and their first studio album Lift Your Voice in 2013.
Cathy McEvoy is the current musical director.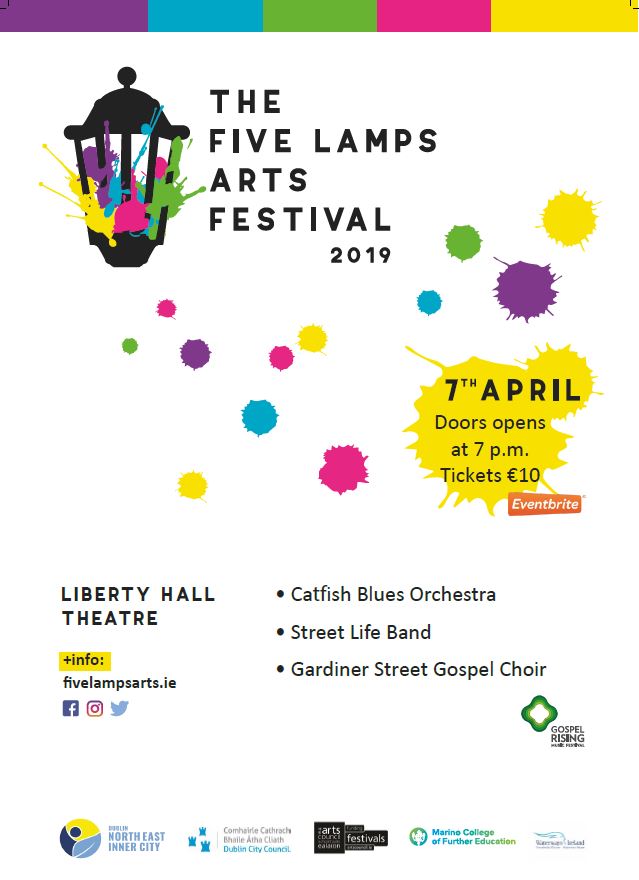 ---