Nominations are now open for the annual Dublin North Central Garda Youth Awards that are proudly supported by Croke Park and the North East Inner City (NEIC) Programme Implementation Board.
The awards celebrate outstanding young people between 13 and 21 years of age and recognise the good work being done by young people throughout the communities of Dublin North Central.
Awards will be considered for nominated young people who by their presence make their communities a better place to live or who have overcome difficult circumstances, defied all the odds, and whose commitment deserves recognition. There will also be an award for groups of two or more young people whose combined efforts have contributed positively to their communities.
All nominees and group members should be between 13 and 21 years of age on August 31st 2020 and the Dublin North Central Garda Division covers Mountjoy, Fitzgibbon Street, Bridewell and Store Street Garda Stations.
Application form for completion is attached and can also be downloaded from Youth Awards 2021.
Closing date for entries is Wednesday, 31st March 2021 and should be submitted by email to community@crokepark.ie.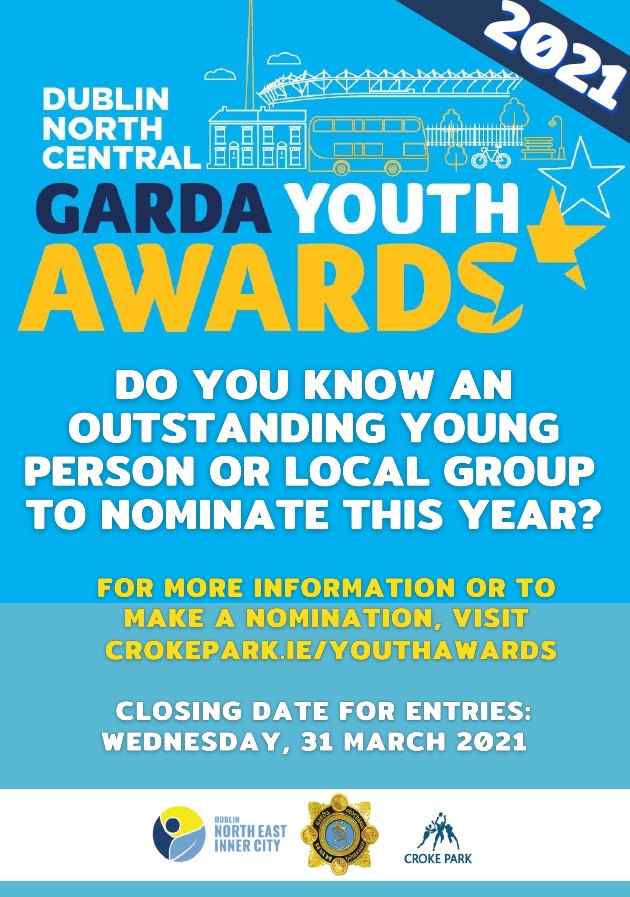 ---