The career L.E.A.P programme is aimed at young men and young women ages 18-25, living/engaging in the North East Inner City and not engaged in employment or education.
The Career L.E.A.P. training programme has been developed using cutting edge psychology and pedagogy when working with young people to develop their Career competencies, development and management of career and Workplace competencies, skills highly valued by employers.
What did participants say?
"It's the best. It is one of the best programmes that I have done in my life. It changes your idea about life, it changes your negative idea about getting a job." (young adult participant)
"Yes. It was brilliant. I learned a lot and if I didn't do it I wouldn't be where I am now. I'm out doing things now. I'm motivated more as well." (young adult participant)
What is involved?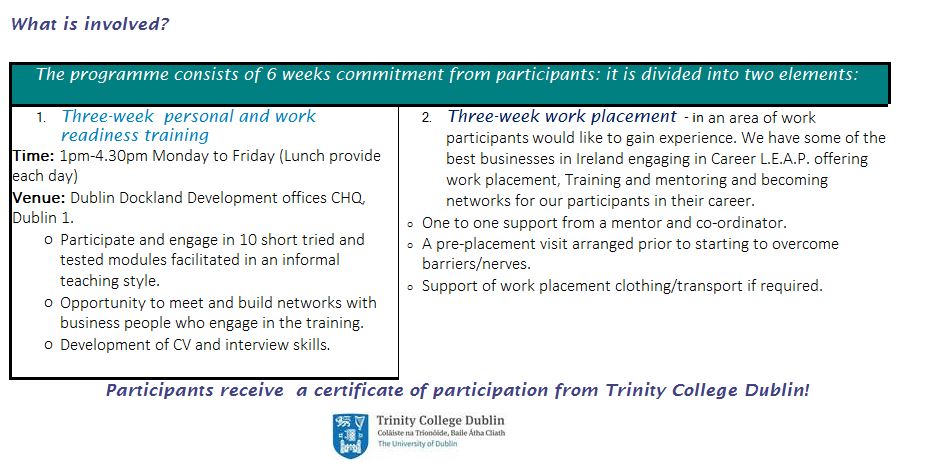 When?
This year we are supported and funded by C.D.E.T.B and NEIC. We will facilitate three rounds of Career L.E.A.P. We have themed each round by season. We are very excited !!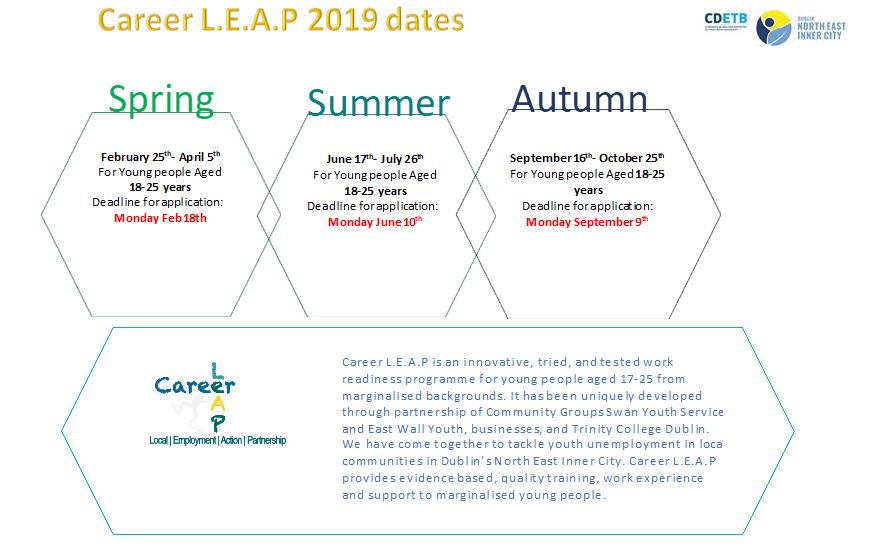 How do Participants apply?
Once applications are completed, post or deliver to Aimee Harding, Swan Youth Service, Agathas Hall, Dunne Street, Dublin 1.
OR
They can be scanned or emailed to aimee@swanyouthservice.org
Recruitment support:
Aimee can visit your organisation to speak to staff/ individuals or groups who would like to find out more.

Each applicant will have the opportunity to attend an informal interview to see if the Career L.E.A.P programme meets their needs.

One to one Support for participants throughout and after they finish the programme.
---