This one morning per week course will qualify you for working as a Special Needs Assistant.
Topics covered include:
• The qualities and skills necessary to work as an effective SNA
• Communication and language development
• Positive approaches to behaviours that challenge
Classes take place every Friday morning, 10am - 1pm
INFORMATION & REGISTRATION MORNING
Tuesday 9th July 10am - 12 noon
For more information contact Mary or Dee at 01- 8787266
DALC, 3 Mountjoy Square, Dublin 1
WHO IS THIS COURSE FOR?
The programme will cater for a variety of adult learners ranging from school leavers with no previous experience in childcare to more mature adults with relevant life or work experience. This course takes place just one morning per week from 10a.m. - 1p.m. making it ideal for those who are working in the home / caring for young schoolchildren but are interested in making the move to employment. Limited crèche places will be available.

Extra study support will be available for those returning to education.
COURSE STRUCTURE
Inclusion & equal opportunities.

Legislation pertaining to special education and disability.

The role of SNA in facilitating activities of daily living (self-care skills).

Evidence-based strategies and approaches used in special education.

Categories of special educational needs – Autism, General Learning Disabilities, Specific Learning Difficulties etc.

To complete this module, participants must complete 30 hours work experience.
Classes will take place on Friday mornings from 10am - 1pm.
•This course will begin in September 2019.•D.A.L.C. is located at 3 Mountjoy Square, just 5 minutes walk fromO'Connell Street. This course is funded under the BTEI Initiative
ON COMPLETION, YOU WILL BE AWARDED QQI LEVEL 5 SPECIAL NEEDS ASSISTING MODULE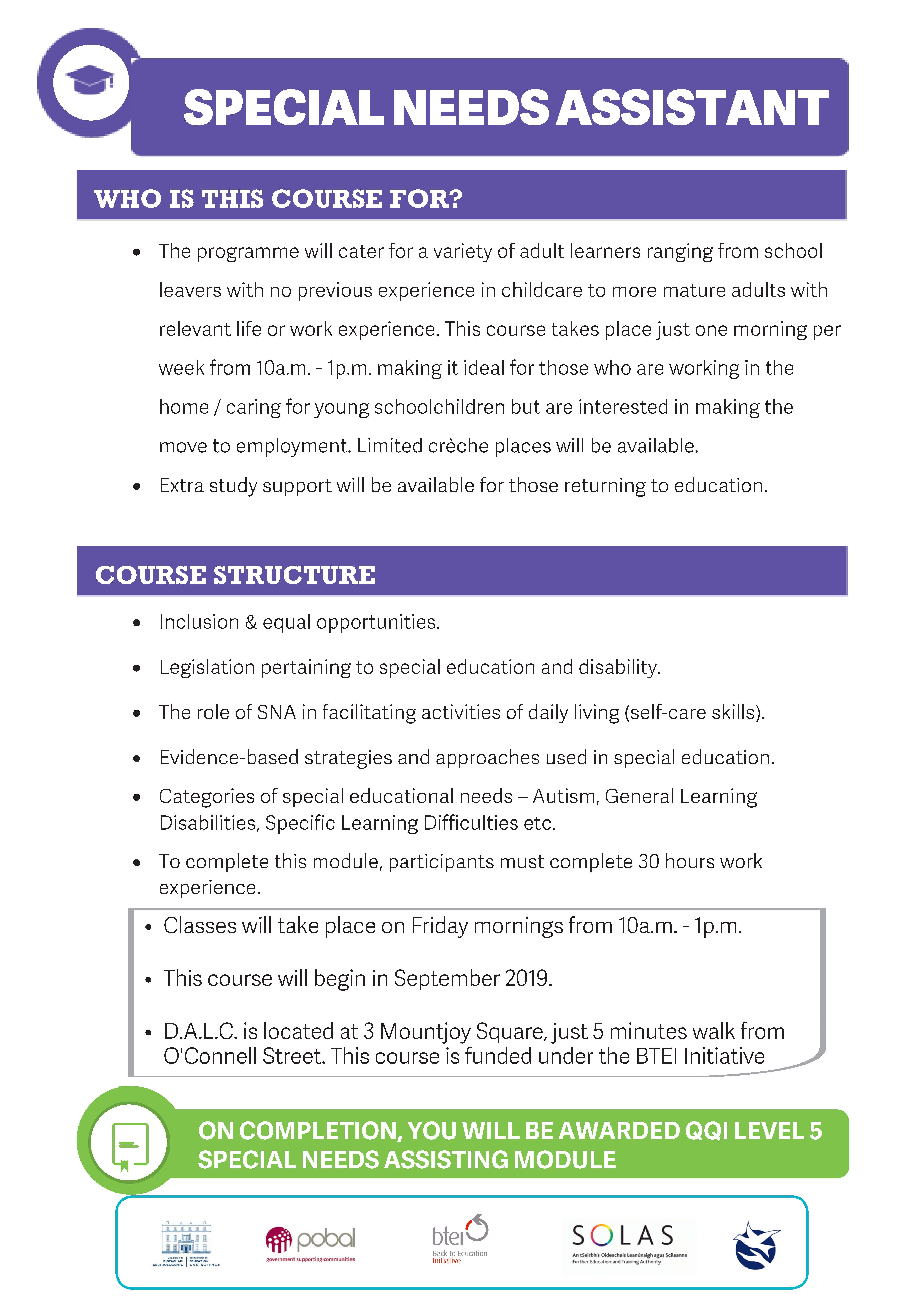 ---