As Ireland's Tech Sector continues to grow, why not consider the apprenticeship route to develop top tech talent?
Apprenticeships now available in Software Development, Systems and Networks and Cyber Security NFQ Level 6.
For more see www.fit.ie or follow @FastrackintoIT on Twitter/fit.tech.apprenticeship on Instagram.
Are you a Tech Enthusiast?
ICT Associate Professional is the new National Apprenticeship Programme for all tech enthusiasts wishing to pursue a career in Ireland's buoyant technology sector.
Over 12,000 jobs are currently available in tech – as highlighted by the recent FIT ICT Skills Audit. 75% of these roles can be facilitated through tech apprenticeship programmes, providing immediate employment opportunities for job seekers and students.
These companies are keen to recruit smart people with smart skills and this new Tech Apprenticeship will enable participants to 'earn while they learn' as participating companies sponsor participants from day one and throughout the programme.
Giving new meaning to the concept of 'hire education!' this Apprenticeship programme adopts a learning by doing format of ICT skills development, which has been championed by industry and is now incorporated as an integrated component of statutory provision. Over a two year period the programme combines college-based learning with on-the-job application, culminating in the attainment of the ICT Associate Professional Apprenticeship Award.
Entry Requirements
FIT accepts a number of different entry routes to the ICT Associate Professional Apprentice Programmes depending on your own individual background. Applicants must be 18 years or older with the eligibility to work and live in Ireland. FIT warmly welcome applications from all genders, and from candidates who may have a physical or hidden disability. The following stipulations will apply to the screening of your application:
Knowledge, Skill and Personal Competence (upon application)
Candidates must be numerate and literate with the capacity to learn new skills and absorb varied product knowledge. In addition, candidates must demonstrate a capacity to work as a member of a team and display a capacity to clearly communicate with others. Each candidate must demonstrate a level of personal motivation and a clear desire to work in the field of ICT.
Secondary School Leavers (Republic of Ireland)
Candidates should have completed a Leaving Certificate with pass grades in at least five Ordinary level subjects (including Maths and English).
School Leavers (Northern Ireland or the United Kingdom)
Candidates should have completed a level of second-level education equivalent to the Irish Leaving Certificate. This may be composed of the attainment of 'A Levels' subject based qualification (General Certificate of Education).
Recognition of Prior Learning
Candidates who wish to apply for entry, and who do not satisfy any of the standard entry requirements are advised; that an evidenced and justifiable rationale will have to be provided for consideration to be entered into the selection process. This will include the submission of a detailed synopsis of previous educational, life and/or work experiences. The FIT Registrar or delegate will review such cases with regard to the FIT Policy on Access, Transfer and Progression.
The Tech Sector Wants YOU!
People with tech skills are in demand not just in the IT sector – more and more jobs across industry require various levels of proficiency in IT. A trend which is anticipated to grow as increasingly companies utilise technologies to manage their activities, market their products, communicate with their customers and increase productivity. Emerging Internet of Things (IoT) technologies are creating daily, new industrial sectors, way beyond the prospects of driverless cars, delivery by drones etc., resulting in the creation of new roles, skill sets and career paths across all sectors of the economy, which are expected to grow exponentially in the coming years.
As part response to these current and emerging tech career opportunities, FIT was recently appointed Coordinating Provider by the national Apprenticeship Council for the delivery of two technology apprenticeships at Level 6 on the National Framework of Qualifications (NFQ). Built on a proto-type that was 'road-tested' with over 150 leading technology companies sponsoring 249 successful participants, the ICT Associate Professional Apprenticeship programme commencing in early 2018 facilitates two tracks of technology training nationwide, Software Developer or Network Engineer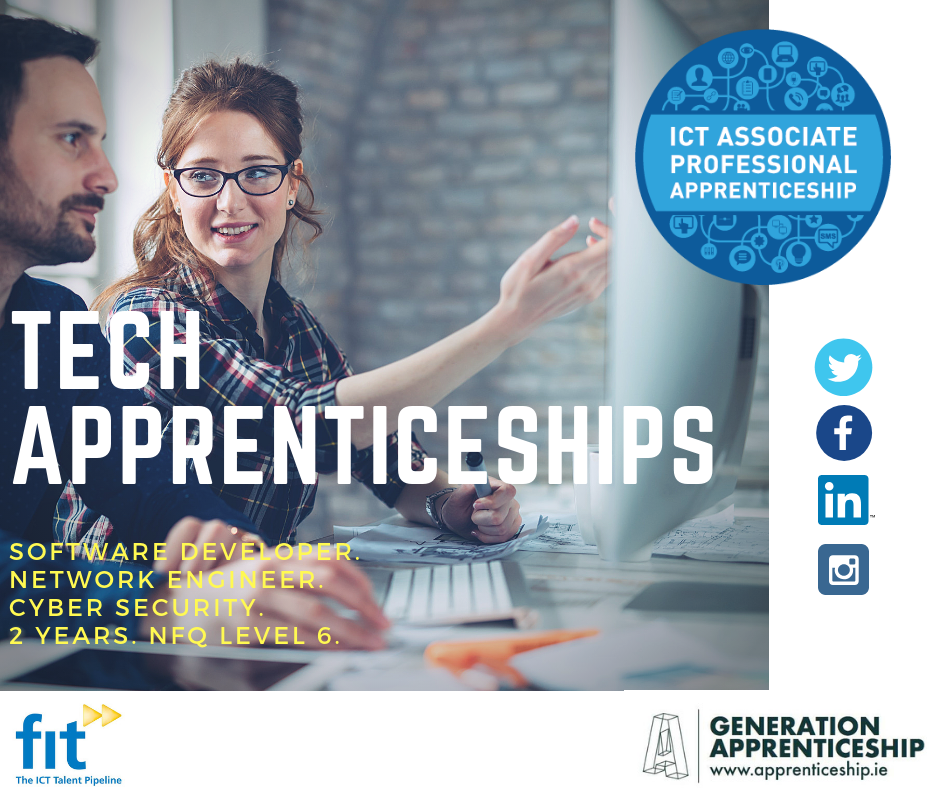 ---