The CDETB, in partnership with Google, are pleased to offer 100 free training places to manage the administration of their Google Professional certificates. The certificates are ideal for Youthreach, IT students, BTEI, VTOS and applicants of a similar standard.
What will the course offer you?
The CDETB will work with Google to manage these 100 Google Professional Certificates that have been offered for free to learners in the NEIC. CDETB will use their network of connections through education, literacy, community and youth services to recruit and enable potential candidates in the larger Dublin area to engage with the courses.
Many of the candidates will be enabled to rejoin the workforce through the training. The courses need to be completed by December 31st 2021. CDETB will make some digital supports available to candidates to engage with the courses.
The courses are
Free

In four high-demand fields

Google products/services agnostic

Completed in < 6 months**

No previous degree, experience required

Hands-on, practice-based approach

Makes no revenue for Google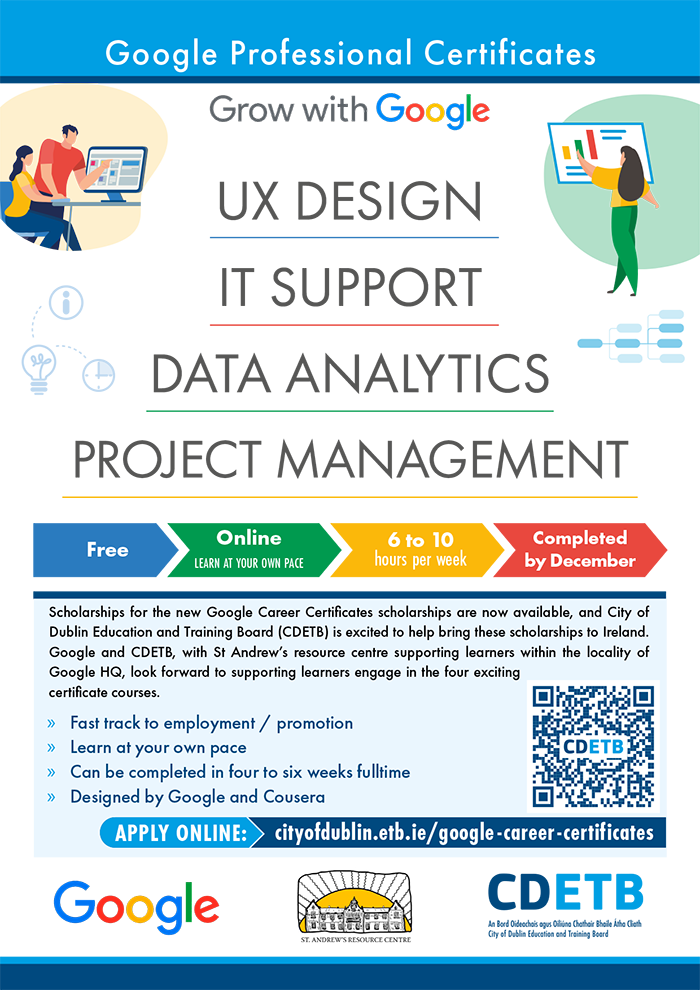 There are four types of certificates on offer (link below for further information).
Project Management
IT Support
UX Design
Data Analytics
https://grow.google/certificates/#?modal_active=none

---